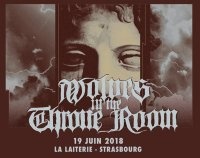 Les Américains de
WOLVES IN THE THRONE ROOM
et de
VRADIAZEI
passeront par la Laiterie de Strasbourg le 19 Juin.
Depuis dix ans,
WOLVES IN THE THRONE ROOM
inscrit dans la durée son geste, enraciné dans le black metal nordique et ouvrant ses horizons par des chants féminins, claviers cosmiques, instruments acoustiques. Une poésie métallifère, mélancolique et quasi psychédélique.
A cette occasion, 4 places (2 gagnants / 2 places chacun) sont mises en jeu !
Il vous suffit de répondre à la question ci-dessous, en envoyant votre réponse à
concours@french-metal.com
, bonne chance !
Question :
Comment s'appelle le dernier album de Wolves In The Throne Room ?
Plus d'infos :
www.artefact.org/la-laiterie/programmation/wolves-throne-room-vradiazei