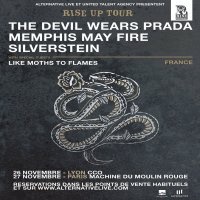 THE DEVIL WEARS PRADA
sera de passage à la Machine du Moulin Rouge (Paris) le Dimanche 27 Novembre avec
MEMPHIS MAY FIRE
,
SILVERSTEIN
et
LIKE MOTH TO FLAMES
.
A cette occasion, 2 places sont mises en jeu !
Il vous suffit de répondre à la question ci-dessous, en envoyant votre réponse à
concours@french-metal.com
, bonne chance !
Question :
Comment s'appelle le dernier EP de The Devil Wears Prada ?
Plus d'infos :
www.facebook.com/events/601799589978937