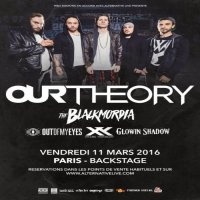 W&S Booking présente, en accord avec Alternative Live,
OUR THEORY
,
THE BLACKMORDIA
,
X.Y
,
OUT OF MY EYES
et
GLOWIN SHADOW
le 11 Mars au O'Sullivans Backstage.
A cette occasion, 4 places sont mises en jeu !
Il vous suffit de répondre à la question ci-dessous, en envoyant votre réponse à
concours@french-metal.com
, bonne chance !
Question :
Comment s'appelle le dernier EP de Our Theory ?
Plus d'infos :
www.facebook.com/events/1683507408531560