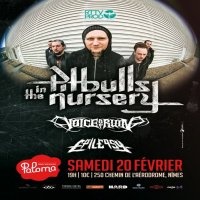 Plateau 100% metal, 100% noms de groupes qui font peur !
PITBULLS IN THE NURSERY
seront accompagnés de
VOICE OF RUIN
et
EPILEPSY
le Samedi 20 Février 2016 à la Paloma de Nîmes.
A cette occasion, 1 place est mise en jeu !
Il vous suffit de répondre à la question ci-dessous, en envoyant votre réponse à
concours@french-metal.com
, bonne chance !
Question :
Comment s'appelle le dernier album de Pitbulls In The Nursery ?
Plus d'infos :
www.facebook.com/events/1027964973912539