CORROSIVE ELEMENTS livre les détails de ''Toxic Waste Blues''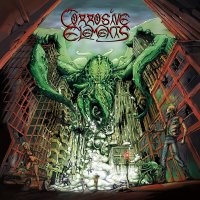 CORROSIVE ELEMENTS
(death / thrash'n'roll de Paris) vient de dévoiler un extrait de son prochain album, il s'agit du titre
"Burn The Preachers".
En attendant de trouver un label /distributeur, le groupe en profite pour donner plus de détails concernant l'album
"Toxic Waste Blues"
:
Produit par
CORROSIVE ELEMENTS
Mixé par Lionel Gendre
Masterisé par Dan Swanö à l'Unisound AB
Batterie enregistrée au Wildman Studio par Karl Dallara.
Chant et guitares enregistrés au The Krust Church par Yves Pene et Tarik Usciati
Basse enregistrée par Lionel Gendre au The Lion's Den.
Artwork par Anne-Claire Planard
Tracklist :
1. Burn the Preachers
2. Destructive Cult
3.Wrong Turn
4. A Premium Carnage
5. The Awakening
6. He Dwells in the Abyss
7. Misanthropy
8. Libertas Mortiis
9. Warpath
10. Oppression
11. Toxic Waste Blues
12. Warmongers
Plus d'infos :
www.corrosiveelements.com