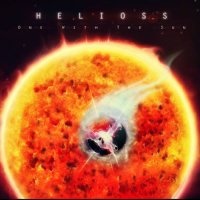 HELIOSS
(black / death) va sortir début 2015 son deuxième album intitulé
"One With The Sun".
Thomas (
DISGRAVED
,
PAUPIETTES
) remplace Pierre au chant, qui a quitté le groupe pour des raisons d'emploi du temps. Voici la tracklist de l'album :
1-One With The Sun
2-Come To The Feast
3-The Face Of A God
4-Unnamed Soul (feat. Elisabeth)
5-We, The Kings
6-Filth Of Mankind (feat. Aurélien)
7-Bondage Of Oppression
8-Greed For Illusion
9-Espace-Temps (feat. Aurélien)
10-Her Song Of Ruin (feat. Korentin)
11-Unis (feat. Pierre)
L'album sera mixé et masterisé par Korentin (
DISGRAVED
).
L'artwork est une fois de plus signé Yann Delahaie.
Plus d'infos :
www.facebook.com/heliossband