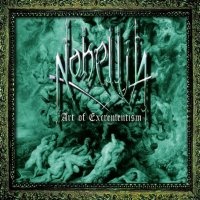 A l'occasion de sa reformation exclusive pour un concert qui aura lieu le 13 Décembre prochain à l'Althèrax de Nice,
NOHELLIA
(symphonique black death metal) propose son premier et unique album,
"Art Of Excrementism"
en streaming intégral. Cet album n'a malheureusement jamais vu le jour en format physique.
Voici sa tracklist :
01. Tale of Necrophile (intro)- 02. Art of Excrementism - 03. Divine in Chaos - 04. Land of Enchantments - 05. La valse des non-morts 06. Crucified, Impaled - 07. Morbid predictions ov Doom - 08. The raft of no Heaven - 09. Welcome to gangrenia - 10. Decadent Funeral at the cemetery - 11. +ND. V. XIV+ - 12. In the name ov God
Le concert se fera en compagnie de
THE GREAT OLD ONES
,
LUTECE
et
FIR BOLG
.
Plus d'infos :
www.facebook.com/events/321601788023396