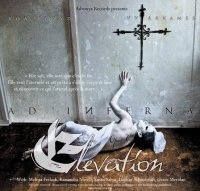 Le groupe d'electro / industrial / gothic
AD INFERNA
va sortir son septième album
"Opus 7 : Elevation"
le 26 Mai 2014 chez Advoxya Records.
Pour l'occasion, Vicomte Vampyr Arkames (ex-
SETH
) & VoA VoXyD ont invité des amies à poser certaines lignes de chant telles que : Lindsay Schoolcraft (
CRADLE OF FILTH
), Melissa Ferlaak (
PLAGUE OF STARS
,
AESMA DAEVA
,
VISIONS OF ATLANTIS
), Kassandra Novell (
EVE'S APPLE
), Sanna Salou (
DIMLIGHT
), Grace Meridian (
SHIELD OF WINGS
). Morfeus (ex-
MAYHEM
, ex-
LIMBONIC ART
,
DIMENSION F3H
) a rejoint le groupe pour réaliser les parties guitares du morceau
"InVisible"
(disponible uniquement sur la version CD de
"Opus 7 : Elevation".
La vidéo du premier single
"Non-Existence"
vient tout juste d'être mis en ligne, elle est visible ci-dessous.
Tracklist :
Th1: Dans la Pénombre (feat. Melissa Ferlaak)
Th2: Soumission (feat. Kassandra Novell)
Th3: Sombres Rêveries (feat. Melissa Ferlaak)
Th4: Sans Elle (feat. Grace Meridan)
Th5: Les Cendres d'Eden (feat. Melissa Ferlaak)
Th6: Délivrance (feat. Melissa Ferlaak)
Th7: Le Silence des Ombres (feat. Lindsay Schoolcraft)
Th8: Non-Existence (feat. Melissa Ferlaak)
Th9: Renaissance (feat. Melissa Ferlaak)
Th10: Elle est Moi
Th11: Sans retour (feat. Sanna Salou)
Th12: Fin de l'Histoire (feat. Melissa Ferlaak)
Th13: InVisible (feat. Morfeus / Limbonic Art and Kassandra Novell)
Track14: RMX Soumission remixed by Vasi Vallis
Plus d'infos :
www.adinferna.com