Retour aux news

DUST IN MIND présente un de ses nouveaux membres
20/12/2013 16:47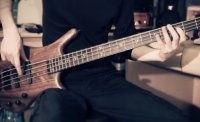 DUST IN MIND
, le groupe de metal / industriel français, composé à la base de 2 membres (Dam et Jen), dévoilera durant les 3 prochains mois, les 3 nouveaux membres officiels. Ils apporteront expérience et soutien sur scène, et participeront à la production du premier album, prévu pour Septembre 2014.
Aujourd'hui, c'est le bassiste Matt Gabnai, d'origine hongroise, qui se présente et qui ouvre la marche avec, en plus, une vidéo playthrough du titre
"Mass Effect".
Voici son communiqué officiel :
"Dear friends and followers, let me just introduce myself: I'm Matt Gabnai, the bassist on board for Dust in Mind.

What can I tell, I feel to be honoured to be once again able to play in a band that has members of the same maximalist mindset as mine. It's been over 13 years now that I play bass, I lived in several countries before coming to France 3 years ago. A lot happened since my last move, met a lot of fantastic people, but the goal remained the same: to play and release the highest quality music, possibly something Metal driven. I'm glad that it has finally came to be possible with Dust in Mind, where I can use the whole spectrum of my playing skills I achieved.

As promised, we recorded a playthrough video for one of the thoughest songs on bass from the band: Mass Effect. Enjoy, and don't forget to tell us what you think about it! -Matt"
Plus d'infos :
www.dustinmind.com
Pas de commentaires postés...