Retour aux news

WHEN REASONS COLLAPSE cherche un bassiste
26/06/2013 15:53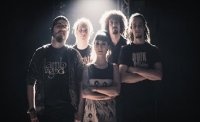 WHEN REASONS COLLAPSE
(metalcore / deathcore / death mélo) cherche son nouveau bassiste, quelqu'un de motivé et disponible. Le groupe effectue deux répetitions en semaine à Linas en Essonne (91).
Influences :
The Black Dahlia Murder, Veil of Maya, All Shall Perish, Parkway Drive, As Blood Runs Black, Heaven Shall Burn, Whitechapel, Lamb of God, In Flames, Dark Tranquillity, Unearth, Nostromo, The Haunted, Dimmu Borgir, Lyzanxia, Gojira, Textures...
Vous pouvez les contacter par mail :
wrcollapse@gmail.com
Plus d'infos :
www.facebook.com/whenreasonscollapse
Pas de commentaires postés...