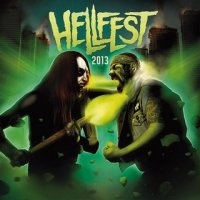 Pour la seconde fois, Hellfest Production et Sony Music France s'associent pour vous proposer la compilation officielle du festival Hellfest. Le meilleur de l'édition 2013 en 2 CDs dans les bacs dès aujourd'hui, ou en téléchargement sur iTunes, avec notamment :
KORN
,
AVANTASIA
,
HELLOWEEN
...
Si vous trouvez un "ticket or" dans votre exemplaire de la compilation, vous gagnez votre pass 3 jours au Hellfest 2013 et une rencontre avec
BULLET FOR MY VALENTINE
,
PAPA ROACH
,
HELLOWEEN
,
SAXON
ou encore
MASS HYSTERIA
!
CD1
1 Cradle Of Filth "The Abhorrent"
2 Candlemass "Solitude"
3 At The Gates "Slaughter of the Soul"
4 Arch Enemy "Nemesis"
5 Immortal "The Rise Of Darkness"
6 God Seed "This From The Past"
7 Marduk "Messianic Pestilence"
8 Morbid Angel "Nevermore"
9 HELLYEAH "Band of Brothers"
10 Agnostic Front "My Life My Way"
11 Finntroll "Solsagan"
12 Red Fang "Wires"
13 Amorphis "Alone"
14 Haemorrhage "Open Heart Butchery"
15 Asphyx "Deathhammer"
16 Hypocrisy "Eraser"
17 Kreator "Civilization Collapse"
CD2
1 Bullet For My Valentine "Riot"
2 Korn "A.D.I.D.A.S."
3 Avantasia "Avantasia"
4 Whitesnake "Still Of The Night"
5 Accept "Balls To The Wall"
6 Helloween "Nabataea"
7 Sick Of It All "Scratch the Surface"
8 Europe "The Final Countdown"
9 Saxon "Heavy Metal Thunder"
10 Krokus "Ballroom Blitz"
11 Kissin Dynamite "I Will Be King"
12 Lordi "Hard Rock Hallelujah"
13 Hardcore Superstar "One More Minute"
14 Mass Hysteria "Positif à bloc"
15 Danko Jones "Just A Beautiful Day"
16 Papa Roach "Still Swingin'"
17 Graveyard "Goliath"
18 My Dying Bride "The Poorest Waltz"