Retour aux news

RIGHT TO THE VOID est entré en studio
24/09/2012 20:55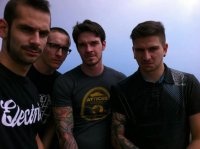 RIGHT TO THE VOID
(thrash / death) est actuellement au MathLab Recording Studio en Italie pour enregistrer son premier album
"Kingdom Of Vanity"
avec le producteur Jonathan Mazzeo. Le groupe s'envolera ensuite pour le Canada pour le mix et le mastering avec Christian Donaldson (
THE AGONIST
,
BENEATH THE MASSACRE
,
CRYPTOPSY
).
L'album contiendra les titres :
Like A Disease, Phœnix, World Decay, A Black Conclusion, War Of Glory, In Oblivion, Reborn From Ashes, Again And Again… Until The End, Kingdom Of Vanity, Stay, We Have Failed.
Il sortira chez Aural Music Group début 2013.
Plus d'infos :
www.myspace.com/righttothevoid
Pas de commentaires postés...