Retour aux news

INSIDE PROJECT signe chez Ultimhate Records
03/02/2012 19:39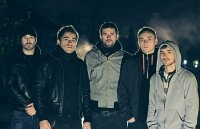 INSIDE PROJECT
annonce sa signature avec le label Belge Ultimhate Records pour la sortie Européenne de son premier album. Pour la France, Season Of Mist se chargera de la distribution.
Tracklist :
1.A history of violence
2.Hools no rules
3.White trash whore
4.Drop dead (feat.Elie from Hellbats)
5.We all die alone
6.The lovely bones
7.Black sunday bitch
8.The gravedigger
9.My fists hate your pride (feat. Arsène de L'ESPRIT DU CLAN)
10.Ruining me
11.The firmament
Plus d'infos :
www.myspace.com/insideproject
Pas de commentaires postés...