PERVERT ASSHOLE : Sortie digitale de ''Welcome To My Zombie Cathouse''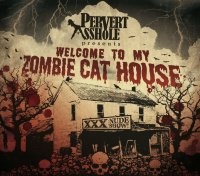 PERVERT ASSHOLE
(metal / rock'n'roll décadent) est fier d'annoncer la sortie de son premier album
"Welcome To My Zombie Cathouse"
en version digitale. Vous pouvez télécharger l'album sur toute les plateformes de téléchargement (iTunes, Amazon...). Pour la version boîtier cristal, une date sera donnée prochainement.
Voici la tracklist de l'album :
1.
"Welcome To My..."
2.
"Zombie Cathouse"
3
."Born To Porn"
4.
"Living Dead Slut"
5.
"Come Taste The Love Of God"
6
."Holocausto Uber Alles"
7.
"Follow The Perv"
8.
"My Dog's Pussy"
9.
"Nice To Meat You"
10.
"Born Drunk"
11.
"I Cum Whiskey"
12.
"The Last Dance"
De plus le groupe sera en concert le 29 Janvier au Klub (Paris) à l'occasion du Headbang Contest.
Plus d'infos :
www.reverbnation.com/pervertassholeofficial