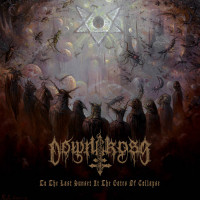 Downcross propose un troisième album. Créé en Biélorussie, le groupe se compose de Dzmtr (guitare) et Ldzmr (batterie / chant) à ce jour, mais les membres restent assez mystérieux quant à leur identité. "To The Last Sunset At The Gates Of Collapse" est leur dernière oeuvre.

Un artwork de Paolo Girardi (Bell Witch, Creeping Fear, AcoD, Firespawn, Forgotten Tomb, Inquisition, Stortregn…), un logo du maître Christophe "Lord of the Logos" Szpajdel, mais je reste neutre. En lançant l'album, je n'avais absolument jamais entendu parler du groupe. J'y découvre un black metal brut, parfois mélodieux, mais surtout agressif, qui se pare parfois d'ambiances sombres mais majestueuses. Si le début de l'album est surtout axé sur des sonorités old school comme les mélodies ténébreuses et lancinantes de "Thru Singularity To Multitude" et "Darkness Would Ascend On Onyx Throne", les bases de la musique du groupe restent axées sur des racines assez violentes et froides.

On découvre des parties impies sur "To The Last Sunset At The Gates Of Collapse", mais également une dissonance aérienne, comme lors de "Lightbearer Of Chaos Fire", avant que le groupe ne reparte dans l'agression pure avec "With Omnipotence Of Ancient Dragon". Les sons mystiques participent à cette ambiance majestueuse et malsaine, puis le son est coupé net par "Grail Of Thanatoerotic Bane", une courte instrumentale au son clair planant. Le black metal impur revient sur "In The Black Moon Principality", un titre qui part autant dans la noirceur que dans les tonalités ambiantes, tout en jouant sur ces racines old school et sales, avec un son que l'on aurait pu entendre il y a trente ans, puis c'est avec "Void That Comes After", une nouvelle instrumentale apaisante au son clair, que le groupe termine son album.

Downcross est une belle découverte. "To The Last Sunset At The Gates Of Collapse" ne réinvente pas le black metal, et il n'en a pas la prétention, mais il offre un disque intéressant que les amateurs de sonorités old school sauront apprécier.