Retour aux news

Download Festival France : L'affiche finale dévoilée
03/02/2017 1:05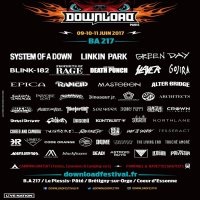 Le Download Festival France, qui aura lieu du 9 au 11 Juin 2017 sur la BA217 (Base Aérienne 2017) à Brétigny-sur-Orge / Le Plessis-Pâté, a dévoilé son affiche finale. Voici la répartition jour par jour :
Vendredi 9 Juin :
PIERCE THE VEIL
DEAD!
RAVENEYE
THE CADILLAC TREE
KVELERTAK
DAGOBA
DINOSAUR JR
NOTHING MORE
BLINK 182
HATEBREED
GOJIRA
MARS RED SKY
LINKIN PARK
SKINNY PUPPY
NOSTROMO
Samedi 10 Juin :
BLACK FOXXES
FAR FROM ALASKA
CODE ORANGE
DEVILDRIVER
PROJECT BLACK PANTERA
ALTER BRIDGE
TOUCHE AMORE
BLUES PILLS
THE LIVING END
EPICA
LONELY THE BRAVE
PARADISE LOST
AQME
FIVE FINGER DEATH PUNCH
SOILWORK
SLAYER
SOLSTAFIR
SYSTEM OF A DOWN
CALIBAN
Dimanche 11 Juin :
TESSERACT
ASTROÏD BOYS
LEOGUN
RED SUN RISING
RISE OF THE NORTH STAR
CREEPER
SUICIDE SILENCE
COHEED AND CAMBRIA
ARCHITECTS
LOST SOCIETY
SUICIDAL TENDANCIES
WAKRAT
MASTODON
NORTHLANE
RANCID
KONTRUST
PROPHETS OF RAGE
CROWN THE EMPIRE
GREEN DAY
CARPENTER BRUT
Plus d'infos :
www.downloadfestival.fr
Pas de commentaires postés...