CREEPING FEAR : Sortie de ''Onward To Apocalypse'' le 03/03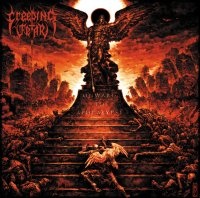 Le premier album des Franciliens de
CREEPING FEAR
,
"Onward To Apocalypse"
, paraîtra le Vendredi 3 Mars 2017 chez Dolorem Records. Conçu et dessiné par Ubbo Sathla, l'artwork dévoilé ci-contre annoncera la couleur avec 9 brûlots de brutal death metal influencé par
DYING FETUS
,
SUFFOCATION
ou bien encore
MORBID ANGEL
.
"Onward To Apocalypse"
a été enregistré et mixé par Francis Caste au Studio Sainte-Marthe puis masterisé au West West Side Music entre autres par Alan Douches.
Tracklist :
1- Life Denied
2- Divine Casualties
3- Swallowed by Death
4- Trenches of Desolation
5- Onward to Apocalypse
6- Spreading Disease
7- As Vultures fly Battlefield bleeds
8- Soiled, Tainted and Merciless
9- Disposable Existence
Plus d'infos :
www.facebook.com/doloremrecords