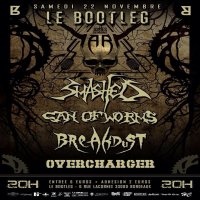 Le premier concert de l'alliance Ashes Remains réunissant
OVERCHARGER
,
BREAKDUST
,
CAN OF WORMS
et
SMASHED
, aura lieu le 22 Novembre au Bootleg de Bordeaux.
A cette occasion, sont mis en jeu : 2 places pour le concert + 1 album de
CAN OF WORMS
"World Collapse"
+ 1 album de
BREAKDUST
"Baleful World"
+ 1 EP de
SMASHED
"Spontaneous Decomposition"
+ 1 EP d'
OVERCHARGER
"Words For My Enemies"
Il vous suffit de répondre à la question ci-dessous, en envoyant votre réponse à
concours@french-metal.com
, bonne chance !
Question :
Sur quelle compilation French Metal apparaît le groupe Smashed ?
Plus d'infos :
www.facebook.com/events/298672000315978