DIARY OF DESTRUCTION : Sortie de ''Dark Road To Recovery'' le 19/04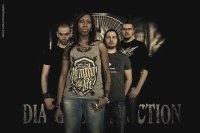 DIARY OF DESTRUCTION
sortira son premier album
"Dark Road To Recovery"
le 19 Avril 2013 sous le label Savage Prod / Season Of Mist.
D'autre part, le groupe accueille deux nouveaux membres, il s'agit de Nicolas Sallerin (
SIX DAYS AFTER
) à la basse et Loïc Kaczmarek (ex-
EIGHTEEN & DEAD
) à la guitare.
Vous pourrez découvrir ce tout nouveau line-up au Warm Up festival à Vernouillet (78) qui aura lieu du 6 au 10 Mars 2013 avec
ZUUL FX
,
NO RETURN
,
BLAZING WAR MACHINE
...
Plus d'infos :
www.diaryofdestruction.com